About StudyBuddy
What we are
Innovation and technology is a passion of Studybuddy, which inflicted us to develop a customized Learning Management solution to schools with the attributes of flexibility. Technology and uniqueness to facilitate edification. And also enables Students to have self-centric learning with the help of Visual learning aids. To accord with competitive world and 21st century technology our desire is to bring revolution in an education system that nurture dexterous and intelligentsia generation from the foundation. For the fulfillment of our desire we came up with the solution to Learning Management System which is a perfect blend of education and technology for next generation schools. To foster the e-learning model, in education sector the digital classroom environment and to make learning outside classroom easy and interesting, our LMS has been successfully deployed in the various schools with the wide range of features and integration, LMS that aids the school community to automate the modus operandi for students, teachers, parents and administration. We have designed easy learning solution to help teachers deliver high quality instruction with an effective blend of classroom activities and interactive multimedia. The framework of our solutions is based on the premise that students learn better through a variety of multi-sensory experiences and instructional sound activities, including hands-on activities, discussions and critical thinking activities, collaborative research, field trips and multimedia.
Congregate
Studybuddy developed an innovative solution to Learning Management System which is flexible, scalable and customized for teachers and students. It is an interface that empowers the school council and streamlines education-related processes. A composite pedestal for schools to enrich their efficiency, quality and edification by providing structured lesson plans, interactive content for all classes, streamlined assignments, augmented managed content, question pool for practice to minimize the workloads of teachers and students. The involved individuals will facilitate time to time with various updating information and features.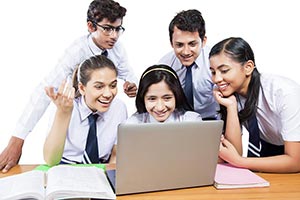 With Studybuddy School can perform cluster jobs of the access to anywhere and at any time and get benefited from timely update , reports , assessments , control and manage content features to drive this LMS as per the requirements of the School Academics . Possibilities of enhancement and content management have not even left a scope of rigidity. The simple and flawless streamlined structure of learning management system can give the school quickness due to its application.
The most imperative beneficiary of the LMS is that we knit the world for them, keeping the needs of students in priority as our product is apt for them. The interactive e-content, multimedia, lesson plans, animations, and video tutorials is a crucial teaching methodology for students. In addition to this, essential advantages are that they can learn the e-content and attempt the assessments online and offline. The calculation is no more complex for them to get timely updates and alerts, create own notes, exam tips and grade book.
An interface for teachers empowered them with maximum advantages not only in automation of jobs but also in balancing of the workload. The command to create lesson plans, enhance question banks, unlimited test generators, grade book, online assessments, feasibility of managing and creation of notes all are signifying boon to them.